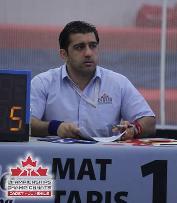 NOTICE OF PASSING - AMIR ALIZADEH
It is with tremendous sadness that I announce the passing of Amir Alizadeh. Amir was one of our most dedicated officials over the past 10 years. His heart-warming smile and friendship will forever be missed. Our thoughts and prayers are with his friends and family at this difficult time.
A memorial will be held at Le Parc - 8432 Leslie Street, Thornhill, ON, Sunday January 7th from 4-6pm.
Flowers can be sent to the memorial service.
Why Become an Official...
Are you interested in staying involved in the sport of wrestling but might not have the time for the full-time commitment of a coach or athlete?
Go to the "Area Chair" tab and email the Official for your area to get more information.
Find out just how rewarding being an official can be! Join the ranks!!
Click the title above to complete the Registration and Bid Process If you are a BRAND NEW official, click here to register with the OAWA as well. Select "Register with a Club" and select "OAWOA" as your club.
**DO NOT pay on that site**
2018 Fees
Provincial Officials -OAWOA = $45.00 -OAWA = $65.00 (Official) or $85.00 (Official & Coach)
National Officials - $50.00
UWW Officials - $130.00
2017 AGM Agenda and Reports